Another fantastic TVK Vegan Lifestyle box has arrived filled with a variety of products. Kitty came to investigate again and wanted to turf everything out so she could sit in the box!
Inside the box!
Fairfields Farm Bacon and Tomato Handcooked Crisps 150g (RRP £1.99)
Nudie Snacks Sour Cream and Chive Roasted Broadbeans 30g (RRP £0.99)
Remedy Cherry Plum Kombucha 250ml (RRP £2.20)
natura Pumpkin Infused Sheet Mask (RRP £5.95)
Deliciously Ella Nut Butter Balls 36g (RRP £1.79)
King Monty Pop Rice Bar 90g (RRP £2.69)
Oatein Salted Caramel Millionaire Crunch 58g (£1.55)
October TVK Lifestyle Box Review…
The sizeable bag of Fairfields Farm crisps has lasted for a few days now. Nice flavour and super crunchy. These crisps use all natural ingredients and are made using renewable energy!
The Nudie roasted broadbean snacks tasted great and are a source of fibre and protein. A great low calorie snack.
My old friend Remedy Kombucha in cherry plum flavour was waiting in the box. I drink too much diet coke so it's always great to try something new. I can't compare the flavour to anything but its tangy and refreshing. The live cultured drink also contains no sugar.
The natura pumpkin mask is a real autumn treat which left my skin feeling great. It contains a variety of fruit and herb extracts and vitamin A & C to help boost collagen.
The Deliciously Ella Nut Butter Balls are two tiny balls made from a mix of dates, nuts and fruit then when you bite into them you find a creamy nut butter filling. Delicious!
The King Monty chocolate bar is very moreish and contains crispy puffed rice which gives it a malty tasted. More creamy tasting than a lot of vegan chocolates.
The Oatein Millionaire Crunch bar is an indulgent treat which is high in protein, vegan, gluten-free and palm oil-free, the salted caramel layer is to die for!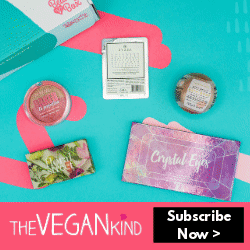 Want one yourself?
If you want to subscribe yourself can use the code 'VEGAN' to get £5 off your first order.
TheVeganKind Supermarket is offering up to 50% off on 80+ products across the supermarket for October.
Previous box reviews…
FYI – I've been subscribing to the TVK lifestyle box for years and am a huge fan. This page contains some affiliate links which means I would receive a very small percentage of sales from anyone making a purchase (this costs you nothing). And of course this never influences my editorial.