It's that time of the month again – time to open a box full of vegan goodies!
As you may have noticed I set up the lovely vegan contents to take a pic and got photobombed by our new kitty! lol! 🙂
**NEWSFLASH! I won TVK photo competition with these kitty pics!! – check it out here.**
Inside the box!
VEGO Dark Nuts and Berries 85g (RRP £2.69)
TheVeganKind Vegan Bamboo Cup (RRP £8.99)
Mallow Puffs Salted Caramel Mallow Puffs 100g (RRP £3.49)
TENZING Natural Energy – Raspberry & Yuzu (RRP £1.49)
Quinola Mothergrain Wholegrain Pilau Style Express Quinoa (RRP £1.89)
Divine Organic 85% Dark Chocolate with Lemon 30g (RRP of 80g bar £2.99)
Yushoi Lightly Sea Salted 21g (RRP £0.75)
Reviewing the September vegan products…
The first thing that got opened was the Mallow Puffs – delicious and very moreish!
It was exciting trying a new VEGO product – loved the berries, very tangy like those freeze dried ones you can get.
The Divine Organic Lemon chocolate is a very grown up sophisticated bar with a natural lemon and rich dark chocolate taste.
I was pleased to see Yushoi pea crisps included this month – a favourite of mine they're a super light, baked snack high in protein and fibre.
Another favourite of mine is the Quinola Express Quinoa – just pop in the microwave it's high in fibre and iron, I use it alongside stews.
The TENZING natural energy drink is flavoured with raspberry and yuzu and is a refreshing, a crisp can of pop.
As well all the great vegan food items, this month included a lovely TVK branded bamboo cup, perfect for the office.
This month TVK will be sponsoring Tower Hills Stables Animal Sanctuary, who look after 500 rescued animals.
Want one yourself?
If you want to subscribe yourself can use the code 'VEGAN' to get £5 off your first order.
FYI – I've been subscribing to the TVK lifestyle box for years and am a huge fan. This page contains some affiliate links which means I would receive a very small percentage of sales from anyone making a purchase (this costs you nothing). And of course this never influences my editorial.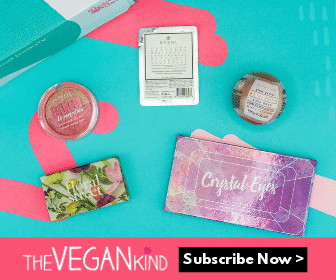 Previous box reviews…